So I went and saw what I hope to be my new super-cute apartment and my imagination has started running wild! I have been gathering ideas on how I want to decorate each room, and the first room I have created a color board for is the bathroom.
The bathroom in the apartment has a very basic khaki colored wall and even now as I imagine it, I am imagining the wall in a vibrant green. I really hope they let me paint the wall. I am not sure if I would put green rugs instead of painting the wall but the color of these rugs below (from Target) is very close to what I would like on the wall:
I love this green; it is a lot of fun and works year round! Target calls it a "spinach green"; I've been looking at colors on the Behr website; I may go and pick up a few samples this weekend.
I chose the colors coral, cream and chocolate brown as my accent colors. I think they complement the green beautifully. In the set, I featured a coral shower curtain from Anthropologie, which is actually WAAAY more than what I would pay for a shower curtain but I love the color and the flower detail: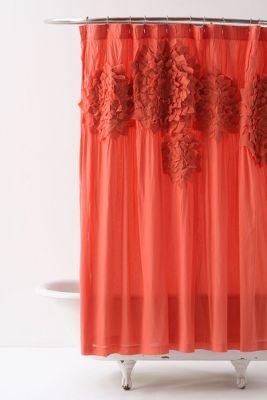 They are asking $128 for this thing...I'll pass.
So many people do a sea theme in the bathroom, what with there being water and all and I certainly didn't want to go there in my bathroom. I was actually interested in leaning more towards tribal influences and green nature; however, this coral rug by Thomas Paul is just the bomb...I wish it wasn't so freaking expensive (the 3x5 is like $350) but I hope to find a cheaper version and in a plush bathroom version:
Isn't it awesome? I really love this rug; I just think it would look great on the floor in between the tub and sink. Plus, although it is a coral print, the color and style would still flow with animal print/inspired hand towels I fell in love with; also by Thomas Paul:
They are also a bit pricey but I think I will splurge on these. There is a matching shower curtain and bath mat as well but I think that will be a bit excessive; I'm already mixing a variety of themes as it is!
One thing I am certain of is the color scheme. Because there aren't any windows in the bathroom, I have to find another way to bring light and life to the room. Aside from the cozy colors, I want to bring in some elements of garden nature.
Perhaps a few bamboo stalks for the corner, a poppy in a small glass vase on the sink, a bonsai tree on the toilet. I don't know but plants and flowers brighten up any room and because the bathroom is often seen as a sanctuary, I want to make it as zen as possible. I'm quite interested in hinoki bath products, if anyone is wondering about housewarming gifts! ;)
We'll see...the board above is just a starting point; I know the execution will depend greatly on what is readily available to me here so stay tuned. You will definitely be updated as the process kicks off and I can't WAIT to show you the final product...let me move in first! :p
In the meantime, off to plan my kitchen! I had a few things I wanted as accessories, mostly from ModCloth but my man thought they were a bit juvenile and though I still have time, I have to start thinking in terms of what things will reflect my style but still be transferable when I get to the day of cohabitation. Still though, how cute are these items:
Don't you just want it all?? More details in the next post! Until then, stay sweet, friends...and join me in prayer for this new place! It would literally be a dream come true; check my Tumblr post (hyperlinked in the words "super-cute apartment" above to see what I mean!)
Ciao bellas...I have a kitchen to imagine...<3