Fall is steadily approaching...so you know what that means!! It's time to shop for sweet Autumn fashions!! One thing I love about this set is that most of the items I am craving this season can be found for the low-low at my favorite thrift stores!! Hooray for bargain shopping!!
Now, I am not really one to follow trends but I will admit, the first time I saw the Peter Pan collar tank pop up at JCPenney, I fell in total heart! I actually was about to buy one for a job interview I had a few months ago, but the boo-thang said it wasn't "professional enough" so I had to get a super boring white button down instead. I went back for it a week or two later and it was gone, although I did notice that there was an influx of other prints scattered across the store. That's when I was like "Ohhh, it's the 'thing' now" and I got a bit turned off by it. But still, I have to sneak a few in my closet before it gets too chilly out as I must say, they really are just adorbs!
This is the one I was going to buy from JCPenney for my interview. Tucked in with black slacks and a blazer would have looked pretty damn professional to me...and super cute as well. I was instructed, however, to save cute for when I get the job! (I didn't get that job, by the way!)
Second thing on my list is the midi skirt which I only fell in love with this summer. Living in the Middle East for seven years, I became a big fan of the maxi skirt and still quite adore them. However, there is something very quaint about the midi skirt. And I know that quaint is an adjective best used to describe cottages in the mountains, but honestly, something about a midi skirt makes me want to slip on a pair of lace up booties and run through the hills singing the theme song to the "The Sound of Music".
I actually found a really nice floral button down midi at the thrift store a few months ago and I absolutely love it. I was told it looked like a curtain and that actually made me love it more. I made that curtain look GOOD...and that takes skills, son! ;)
I really like funky prints on the basic midi and if it's a solid color then I am looking for those with unique cuts and waistlines, such as this lovely Asos tie-front jersey number below:
Burnt orange...one of my favorite Fall colors!
It's sold out unfortunately! :(
And as mustard yellow is another color I love for Fall, I am digging this little number as well, also from Asos:
Adorbs! Okay, moving on. Number 3 on the list is the maxi cardigan which honestly, I rock year round! I am in love with them; the longer the better! For example, a cardigan like this (from Studio Frost):
The length of this cardigan is just perfect!
...I would wear EVERY DAY! It's so cute and it looks so comfortable and this color and style can be worn with A-NY-THING!! And as I said, it can be wore year round: over tanks in the summer when going into cold restaurants and shopping malls and they are especially fun to layer over when it gets chilly outside! Just wait 'til it gets cold...I'll show ya'll how I rock it! :)
Now the next item on my list is something I only recently got into: the high waist pant. It all started when I was in DC with my sis and the harem pants I was wearing kept falling below my waistline. So I hiked them up over my belly button and tied them on the side and voila, I had myself a pair of high waist harem pants and I really love the way it looked on me. So I started to get my Steve Urkel on with skirts and other loose fitting pants as well and now I am just obsessed. I am definitely on the bargain hunt for high-waist fashions! I will keep you all updated!
Can you all guess which look I like the best? Clue below!
Oh before I give the clue, can I just add that I need the pants in my life asap:
The girl whose blog I swiped these from called them "atrocious" but I would kill them!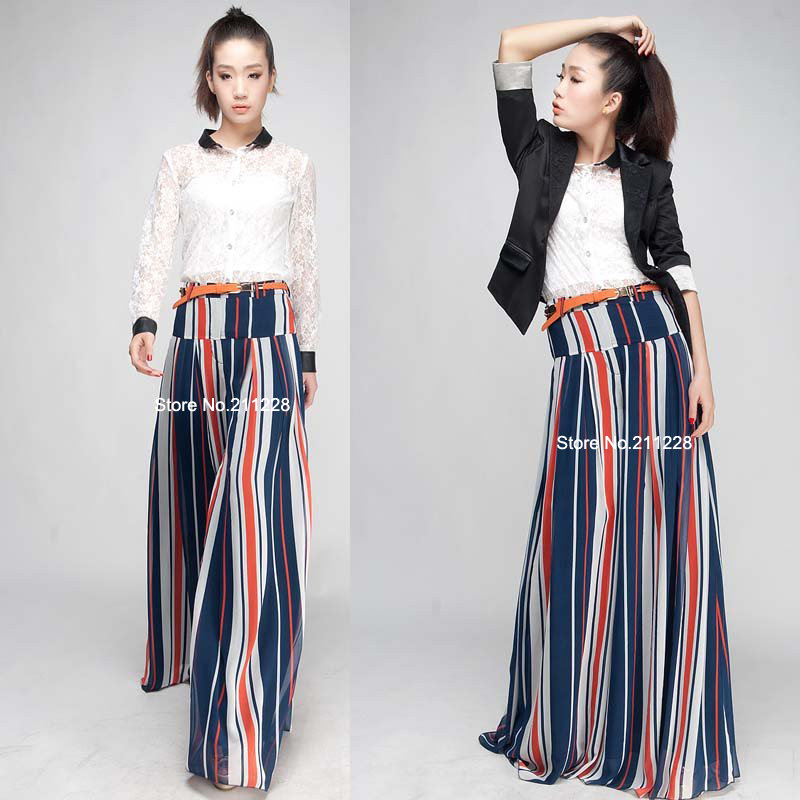 Not really appropriate for Fall and the styling is off here but I love any and all pants that can be easily mistaken for a skirt!
Now, moving on to number 5 on my list: the classic bow blouse. I have loved bow blouses forever; they are so 80's to me and I AM an 80's baby after all! The style I am most fond of are the pussy bow blouses. Talk about 80's Office Chic. I put on one of those shirts and I feel like an extra on "Dallas".
Almost every thrift store my sister and I went to had at least two of these shirts and I am going back to swipe them all. And for me, the more outrageous the print, the better! You know how some things can be so ugly they're cute? I have a bow collared dress like that, bought from Mango back in 2005. When I pull out my Fall boxes, and if I can still fit it, I will model and post a photo of it here for you all! :)
In the meantime, I am going to fantasize about owning this top one day: I just love it: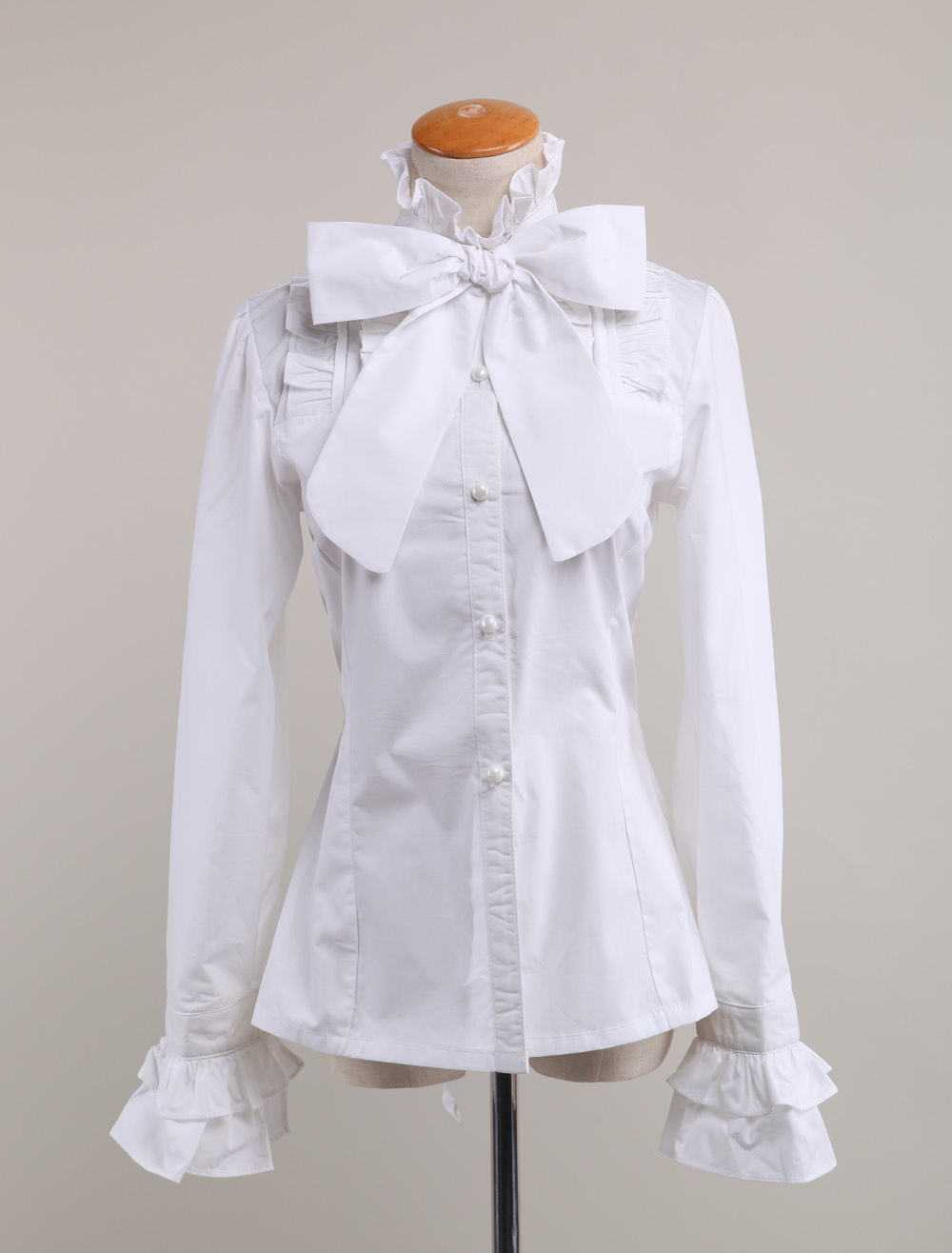 Oh the ways I would wear this shirt. Not the pussy bow I am hunting for this season...more like a Mad Hatter bow...but I love the high neckline on this shirt, the layered cuffs and that mahussive bow! It's only $30.99. I shall be ordering it soon!
Last but not least, we have the footwear! I can rock wedges year round as well but I don't own any Mary Jane wedges so I want to add one or two pair to my collection. My Fall/Winter shoe of choice however is the lace up boot, another staple significantly missing from my stash.
I had a pair actually that I bought from Mango last Spring but they looked so adorbs on my lil' sissie's feet I let her keep them. I bought a knock-off pair from Kohl's the following Fall and they're cool but I want some more like the ones featured on my set. I mean, I'm just saying: Can I get my good witch from the South on this season, please? Thank you.
Also, I want to see what it would feel like to teeter in one of these situations:
So yea, that's about it for now. These are the main items on my shopping list. Trust me, when I come across something else I wasn't aware I like, I will feature it in another set. I think tomorrow I will do a set based on the outfits I've been wearing to all these job interviews I have been going on the past few weeks. (Got a new job today, by the way...well, pending a background check and drug test...but let's engage in a wee praise dance just for the blessing of it, shall we? :)
Okay, my good peoples! Tis my bedtime! Thanks for indulging me and stay tuned as I have more sets coming soon and hopefully an outfit post as I know you all are missing my purty little face!
Until then, keep it cute!